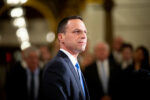 Attorney General Josh Shapiro filed a motion today asking a Pennsylvania court to strike down a request to subpoena voter information from a state senator.
The voter information subpoena comes from Senators Chris Dush and Jake Corman, who are leading an investigation into the 2020 election.
Among the info they are looking for is voters names, addresses, drivers license numbers and more.
Shapiro argues that the election investigation is a political play and that the two senators have not established basic security protocols that could put voter's information at risk of being stolen.
The post Shapiro Files Motion To Stop Voter Information Subpoena appeared first on ButlerRadio.com – Butler, PA.