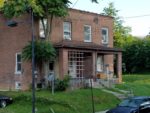 Two men are in the Butler County prison after a drug raid found crack cocaine and heroin in a Butler City home.
According to our news partners at WPXI, 26 year-old Michael Jackson of Butler and 21 year-old Noah Burnside of Forward Township were making and selling drugs out of Jackson's home on the 200 block of South 6th avenue.
Agents apparently raided the home Wednesday night and found Jackson in an upstairs bathroom trying to get rid of the drugs. Burnside meanwhile ran from the house before police ultimately caught up with him.
Both men are behind bars on $200,000 bail.
The post 2 Men Arrested In Drug Raid appeared first on ButlerRadio.com – Butler, PA.