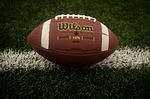 Slippery Rock University defensive end Marcus Martin was named the runner-up for the Ted Hendricks Awards, given to the nation's best defensive lineman. Martin was the first-ever Division II player to be named a finalist.
Martin was also honored this week at the 60th annual Football Foundation Awards Dinner in New York City. He was a member of the National Football Foundation's Scholar Athlete Class. Martin was awarded an $18,000 post-graduate scholarship, and was the only DII player to be among the honorees.
Martin has also been named to the American Football Coaches Association All-America first team for the second consecutive year.
Penn State running back Saquon Barkley has won the Paul Hornung Award as the most versatile player in college football. Barkley was second in the nation with an average of 179 all-purpose yards per game this season at the FBS level. He scored 21 touchdowns, including two kickoffs for touchdowns.
The University of Pittsburgh has signed head football coach Pat Narduzzi to a seven-year contract extension. The deal will keep Narduzzi with the Panthers through the 2024 season. Narduzzi has won 21 games in his first three seasons with Pitt, the most victories in that time period for a new head coach since Jackie Sherill in the mid to late 70's. Narduzzi has led Pitt to victories over two teams ranked within the top two in the nation. This year against Miami,
and last season against Clemson.