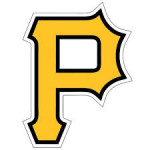 The Pittsburgh Pirates defeated the Detroit Tigers 7-5 Thursday afternoon. Josh Bell hit his 20th home run of the season. Bell leads National League rookies in hits and is currently second among rookies with 62 RBI's. Adam Frazier added three hits. Gerrit Cole earned his 10th win of the year. He allowed three earned runs over eight innings and struck out seven. He walked just one batter.
The Bucs are now one game under .500 and gained a half-game on idle Chicago in the National League Central Division. The Pirates visit the Toronto Blue Jays for the first of three games tonight. First pitch is 7:07pm. Jameson Taillon will start for the Pirates.
The St. Louis Cardinals have moved to within one game of the Cubs with their sixth win in a row. The Brewers lost last night and have fallen two games back.
The Pirates have lost reliever Jhan Marinez to Texas. He was claimed off waivers by the Rangers. He was designated for assignment after the Pirates acquired George Kontos last weekend.