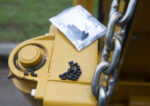 PennDOT is experimenting with a new type of road surfacing.
A pilot project is taking place in Delaware County that mixes asphalt with recycled plastics.
"This material is intended to strengthen the roadway surface, without leeching plastic material into the surrounding environment," PennDOT Acting Deputy Secretary Mark Keiser explained Wednesday. "We will evaluate the material performance over a five year period."
Keiser says PennDOT is always trying to find innovative ways to improve their operations and sees some potential benefits in using recycled plastics.
"We divert waste plastic from landfills and help establish viable markets for this plastic. Opportunity to extend pavement life and the ability to recycle this pavement in the future, as we have started doing in projects across the state," Keiser said.
The pilot project will pave two-quarter mile stretches of different roads in Delaware County.
The post PennDOT Experimenting With Recycled Plastics In Asphalt appeared first on ButlerRadio.com – Butler, PA.