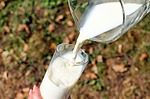 In an effort to raise awareness about the importance of purchasing local dairy products, the Butler County Tourism Bureau has teamed with the Marburger Dairy Farm to basically give away milk at this weekend's Cranberry Community Days.
Representatives will be selling cartons of milk from Marburger Dairy for 5 cents. They'll also be passing out promotional materials reminding residents of the significance that local dairy farms have on our economy.
It's estimated that over 3,000 cows produce 65,000 pounds of milk annually here in Butler County. Nearly 400 jobs and over $45 million in economic value is made possible by Butler County Dairy Farms.
The Cranberry Township Community Days runs through Saturday, with most events happening at the Cranberry Township Community Park.
The post Campaign: Drinking Local Milk Does A Body Good appeared first on ButlerRadio.com – Butler, PA .